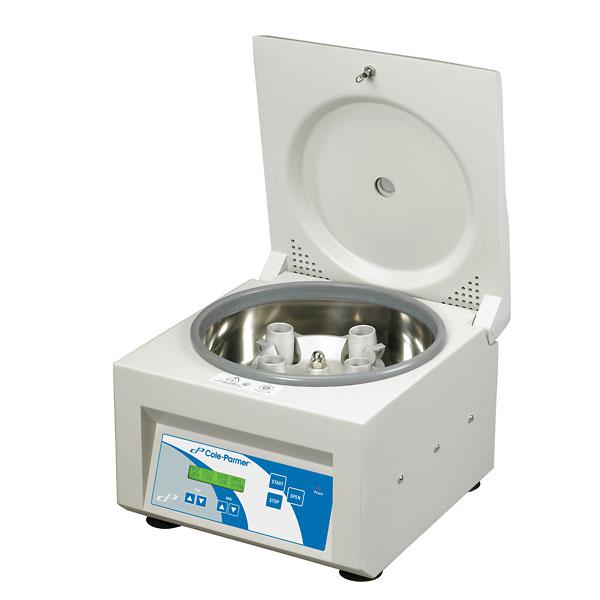 A true workhorse centrifuge with versatile rotor options
Choose from over five rotor options to accommodate tube sizes from 0.5 to 50 mL
n Digital keypad interface is glove-friendly
n Quiet running centrifuge provides a pleasant work setting
This may be the only centrifuge your practice needs! Ensure a powerful and complete separation of your samples—the MS-3400 yields superior serum and plasma specimen separation. The standard four-place swinging buckets accommodate 50-mL tubes. With the additional rotor and adapter options, you can address almost any tube size for your runs. Tube holders are vertical at rest, allowing the use of cover slips during fecal protocols.
The glove-friendly, front-panel digital display allows you to select speed and run times with the push of a button. Two-line digital display shows status, time, rpm and RCF(g), and the 60-minute timer signals when run is complete. Previous settings can be easily repeated for quick testing. The indicator light signals when unit is on.
Designed with safety in mind, the zero rpm latch system prevents the lid from being opened while the rotor is in motion. The suction cup rubber feet eliminate vibration and provide stable, quiet runs. Stainless steel interior chamber is easily accessible for cleaning and will withstand years of use.
What's included: four-place 50 mL swinging bucket rotor and 5-ft power cord.
Specifications
Rotor (included): four-place swinging bucket
Noise level: <50 dBA
Dimensions (W x H x D): 11" x 133⁄4" x 15" (27.9 x 34.9 x 38.1 cm)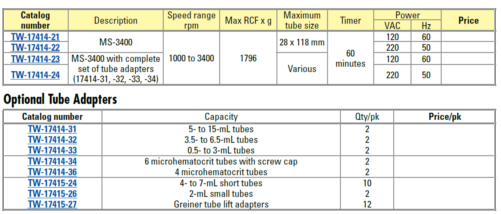 TW-17414-38 Tube shield. Pack of 2
TW-17414-37 Tube holder, 24-place