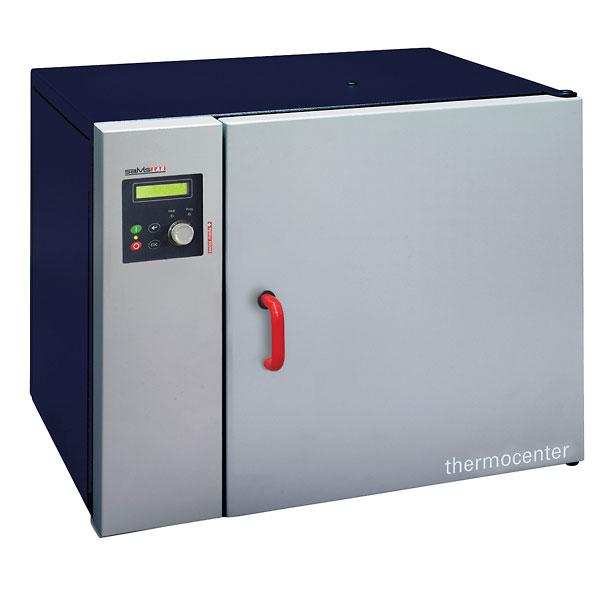 Fully automate your routine drying procedures— microprocessor-controlled ovens store up to 50 programs with 15 program steps
Uniformity of ±0.7°C ensures consistently even heating
Rounded corners and a removable door seal for easy cleaning
High-quality insulation and airtight design prevent heat loss—these ovens heat your samples, not your lab. Mechanical convection ovens feature an oversized heat ring and adjustable-speed fan to ensure excellent uniformity.
In addition to cool-touch operation, these ovens have an insulated silicone door seal that prevents the escape of harmful fumes. The heater and blower stop as soon as you open the oven door. Overtemperature shutoff sounds an audible alarm to ensure that your samples will never overheat. Rounded interior corners and removable door seal make cleanup simple. Microprocessor controller features a digital display with easy-to-operate keypad, menu prompts in five selectable languages, intelligent fan speed control, real-time clock, timer, and RS-232 output.
Ovens with Door-Mounted Components feature extremely compact construction. Perform routine maintenance without moving the oven— door easily detaches by removing only four screws. Stack two ovens to save space—order the exhaust air adapter and stacking adapter under "Accessories" below.
Ovens with Rear-Mounted Components feature a fan outlet designed to ensure excellent air flow. Temperature ramp is fully controlled by heating and fan speed control, eliminating the need for adjustable air flaps.
What's included: the 115 VAC models include a 6-ft (1.8-m) cord with US standard plug; 230 VAC models include a 6-ft (1.8-m) cord with European plug
规格
Temperature range
Ovens with door-mounted components: 20 to 200°C
Ovens with rear-mounted components: 20 to 270°C
Resolution: 0.1°C
Temperature control accuracy: ±0.1°C
Control type: microprocessor
Temperature display: alphanumeric LCD
Timer: 1 min to 999 hr 59 min
Construction:
stainless steel interior and
powder-coated steel exterior