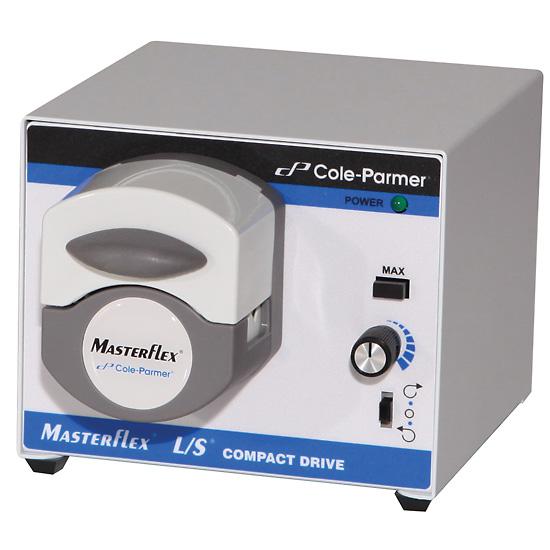 § Pump with L/S Miniflex™ pump head delivers repeatable low flow rates with quick setup
§ Flow range of 1.8 to 220 mL/min (depending on model and tubing size selected)
§ Pump head accepts continuous lengths of tubing for clean flow paths
§ Dual-channel model delivers synchronous flow from two separate channels; single-channel model delivers highest flow rate
§ Automatic tubing retention makes tube loading quick and easy
§ Separate single-turn speed control and forward/off/reverse switch—maintain speed setting when turning pump on or off
§ Remote start/stop via contact closure on back of pump
This compact, stackable pump features a durable steel housing with chip-resistant epoxy-based paint. Wide occlusion angle prevents fluid backflow up to the rated pressure of the tubing. MAX button runs motor at full speed to rapidly prime or flush tubing. Self-lubricating thermoplastic polyester (Ertalyte®TX) rollers are low friction and long wearing for smooth operation and long life.

Note:Dual-channel model must have same size tubing loaded in both channels to ensure tubing retention.
What's Included:
L/S Miniflex pump head and dual-voltage (115/230 VAC) benchtop power supply with IEC320/CEE22 socket. Pump is shipped with cord/plug assembly specific to country of destination.